Is Online Gambling Legal in California? 
When it comes to online gambling, California is home to the most fiendishly complex and intractable landscape in the United States. This means that, despite this being the richest and most populous state in the union, the prospect of legal online California gambling sites is a long way off.
To cut a very long story short, there are several powerful competing interests on the gambling scene. First among these is the Native American tribes that run all the several dozen brick-and-mortar California casinos. The tribes are implacably opposed to all forms of online casino games and sports betting being run here by major commercial companies - and the heavy defeats of recent attempts at legalization underscored the power they wield.
To add to the mix, there are three other parties who want a say, namely the card rooms - to which the tribes are extremely hostile - the racetracks, and the California legislature. Then we need to consider those leading betting brands that are performing so strongly across more than 30 states where online wagering is legal.
The result is antagonism, deadlock, and stalemate, and a situation where there are incredibly few ways to enjoy online gaming in California. The only sport you can wager on is horse racing, while there are no licensed online bingo sites apart from those used for charitable gambling. You cannot even buy lottery tickets online.
Did Online Gambling Legislation Pass in California?
The fate of the most recent attempts to legalize some form of online sports betting in California showed just far the state has to go before this happens. Two propositions were put to California residents in November 2022 - and both were resoundingly defeated.
Proposition 26, which would have allowed tribal casinos and racetracks in California to offer on-site sports betting, was voted down by an emphatic 68%-32% margin. Proposition 27, which would have allowed online betting only, was crushed even more decisively, with only 18% voting in favor. No other forms of online gambling in California have been proposed, let alone passed.
California Online Gambling Laws
So, what happens now? Californians can look across the nation and see how many states are embracing the potential of online sports betting and casino games.
But the earliest any renewed bid to push for legalization in the Golden State will almost certainly not be made before 2024 - when the presidential election takes place.
It will be fascinating to see what form any future attempts to move California gambling online take. Two things are certain; that any initiative will have to involve the tribes, and that its proponents will also have to work extremely hard to overcome California residents' staunch opposition to online sports bettilegal ng and real money online casinos.
Alternatives to Online Gambling in California
While online gambling and sports betting is prohibited in California, there are alternative options available for those wishing to play online casino games.
If you are a fan of online slots, table games and card games High 5 Casino is a social casino offering free-to-play games allowing gamblers to win coins and even real money prizes all while being able to play casino games online in a Las Vegas-style setting.
Must be 18+ to participate. T&Cs Apply.
California Online Casino Laws
The prospects of the legalization of online casinos in California are inextricably bound up with attempts to persuade the voters and rulers of the state to accept online gambling in general.
As we have already seen, that could take several years to achieve - and it is not a given by any means that real money online casinos in California would be legalized at the same time. So gamblers will likely need to wait a while to play online slots and table games.
It must be remembered that, while more than 30 states now permit online sports betting in some form, only half a dozen allow online casinos to operate, with four more licensing online poker sites too. The fact that the tribes' power in California is their ownership and operation of more than 60 physical casinos also suggests an uphill battle for online casino proponents and the California Gambling Control Commission to launch the first legal California online casino.
While we expect efforts to continue that could result in the legalization of real money online casinos, California politics suggests this could yet take considerable time.
❌ There will probably be no renewed push for legalization before 2024
❌ Online casinos will not become reality without California betting apps being legalized first
❌ Only a fraction of states permitting sports betting also allow online casinos
❌ The tribes hold considerable sway in California - and they run the physical casinos
❌ Any California online casino laws will, therefore, need to incorporate tribal interests
❌ The prospect of California gambling online in general, and online casinos in California in particular, appears to be as far away as ever.
California Online Casinos Legalization Timeline
📆 2022: Amid expensive politicking, campaigning and bickering, propositions 26 and 27 were put to the voters - and were heavily defeated.
📆 2021: The campaigns behind the propositions related to a California iGaming bill, both of which would eventually make it on to the ballot paper in 2022, got under way.
📆 2020: Bill SCA-6, which attempted to push towards legalization without the involvement of the tribes, got through committee but did not make it past the Senate floor.
📆 2019: Bill ACA-16 revisited the path to legalization in vain. The tribes launched a bid to legalize sports betting at tribal casinos only.
📆 2018: The US Supreme Court overturned the Professional and Amateur Sports Protection Act, clearing the way for states to legalize online casinos and sports betting in California.
📆 2017: Bill ACA-18, which would have let to a referendum to legalize sports betting, gets nowhere.
📆 2016: Bill A-1441, which would have legalized sports betting, was unsuccessful.
Alternatives to Real Money Online Casino California
Although it may be some while until a California online casino real money prize becomes available, there are ways in which you can enjoy online casino games right now in the Golden State. Numerous social and sweepstakes casinos such as High 5 Casino can be accessed, and they are perfectly legal to play. The only catch is that you cannot play here for real money... or can you?
California Sweepstakes Casino
At a sweepstakes casino, you cannot technically play for real money. When you sign up, you are given a stack of virtual coins so that you can enjoy playing online games, including online machines and table games.
However, at a sweepstakes casino you can exchange some of those coins for tokens that grant you entry to sweepstakes games - which may have real money prizes.
List of Sweepstakes Casinos in California
A sweepstakes casino operates in a legal loophole. Technically, they are free-to-play casinos, just like a social one, but there are ways to gain real money rewards through some of the online slot machines and table games there. It is likely to be the only way of winning online casino real money California players have for some time yet. Among the top sweepstakes casino in California are:
Chumba
Luckyland
High 5
Pulsz
Global Poker
Funzpoints
Fliff Sports Betting
b Spot
Fortune Coins
WorldWinner
WOW Vegas
Best Sweepstakes Casino App in CA
Because real money is not the main driver for a California sweepstakes casino, the incentive to invest heavily in software innovation is less acute.
As a result, the general quality of the apps available from sweepstakes operators is considerably lower than in states where people gamble online for real money. Some casinos do not even have an app. However, one that does - and it is highly rated by users on both iOS and Android devices - is High 5 Casino - offering both online slot machines and table games.
What is the Age Requirement for a Sweepstakes Casino?
The age requirement to play at a sweepstakes casino is 18 given you have a chance to win real money or prizes. That legal gambling age requirement is the same as the required age for the California Lottery and tribal gaming facilities but lower than the age requirement for gambling in most other states (21+).
Social Casino in California
A social casino is exactly the same as a sweepstakes casino, in that it allows you to play popular casino games like online slot machines and table games without having to invest real money.
However, there are no sweepstakes games where you can wheedle your way cleverly around California's legendarily draconian gambling laws and play for real money. Here it is about the thrill of the game and nothing else.
List of Social Casino Games in California
There are several high quality social casinos in California offering top online slot machines and table games. It is interesting to note that some of them are produced by big names in the real money iGaming industry. It is not much of a stretch to imagine that, through the introduction of the concept via this type of online casino sites, California players will be familiar with certain brands if and when the time comes to launch the real thing. Leading free-to-play casinos available in California include:
BetRivers.net
Caesars Slots
MGM
WinStar
Gambino
Slotomania
House of Fun
Hit It Rich!
DoubleDown
MyChoice
Best Social Casino App in CA
Many of the social available in California have high quality apps associated with them. That means you can play your favorite casino games including online slot machines and table games for fun wherever you are in the Golden State.
The Slotomania app is particularly impressive, with a large choice of games, good functionality - and a highly respectable rating of 4.4 out of five among reviewers at the App Store.
What is the Age Requirement for a Social Casino?
The age requirement to play at a social casino is 18, despite the games not offering a chance to win real money or prizes. That are requirement is the same as California's legal gambling age requirement for lottery and retail casinos but lower than the requirement for gambling in most other states (21+).
Must be 18+ to participate. T&Cs Apply.
What California Online Casinos and Apps Are Likely?
If and when the day arrives when online California casinos are launched, there are certain operators that are likely to be prominent in the first wave. One of the key weapons in the battle to create the best California online casino will be a top-notch app offering online slot machines and table games.
We can expect some of the best online casinos from many of the leading names in the market, many of which already have a casino app that stands alone from its sports betting equivalent.
Some of these operators are always at the forefront when it comes to penetrating new markets; some are already present in some way in the Golden State; many are likely to launch California iGaming apps offering online slot machines and table games, and to be vying to be recognized as top California online casinos in what is sure to be a huge and lucrative market.
Brands we can be sure will launch California gambling apps aimed at casino enthusiasts, given the chance, are:
BetMGM Casino California
The presence of a social casino with the MGM brand that is active in California suggests that a long game is being played. If California gambling laws are altered to allow real money online casinos, what better than to have your name known in the state already? And the BetMGM Casino app that is available for real-money online slots, table games and online poker elsewhere is an elite example of how it should be done.
Most gamblers have already had a taste of the quality that BetMGM can bring with the BetMGM Sportsbook, which is live in plenty of states.
Caesars Casino California
Caesars Casino is offered alongside the Caesars Sportsbook, and can be accessed on the same app.
Caesars Casino is highly regarded by players and it would be astonishing if there were not serious attempts to add this brand to the list of California gambling apps if the opportunity arose given parent company Caesars' footprint of retail casinos in the state.
FanDuel Casino California
FanDuel offers a casino app for mobile players providing online slot machines and table games. Not surprisingly, given the quality and popularity of the online offerings produced by this brand including the FanDuel Sportsboo, the app is very highly rated by its users and would be a compelling addition to the list of names looking to launch a mobile casino in California.
DraftKings Casino California
DraftKings Casino is another multi-faceted brand that offers a standalone casino app with some of the top online slot machines and table games to complement its DraftKings Sportsbook offering and the DFS games with which it made its name.
The operator has always been right at the forefront of mobile gaming innovation, which makes it certain it would would launch an app as part of a bid to be the best online casino California has to offer.
888 Casino California
888 is a big international brand with an extremely impressive online casino offering of mobile slot, table games and online poker. This includes a casino app in operation in New Jersey that scores well among its devotees.
You could easily see 888 launching a legal casino in California, with an outstanding mobile option to match, if it was given the opportunity.
BetRivers Casino California
Many people in California play already at BetRivers.net, which is one of California's leading social casinos offering mobile slots and table games. If it ever has the chance to launch a real-money California casino, BetRivers Casino will surely make the most of that opportunity.
This is a brand that delivers a superb online casino experience, which includes one of the best loyalty rewards programs in the market.
Would Promo Codes Be Available at Online Casinos in CA?
If and when legal online California casinos become a reality, the competition for customers will inevitably be fierce. One way in which brands will strive to stand out from the crowd will be by offering promo codes that trigger exciting welcome bonuses for new players, similar to the California sports betting promos that could be offered if the market opens.
By entering a promo code during the process of registering for an account, you automatically activate that bonus and can be sure of enjoying the benefits it brings. Welcome bonuses come in different forms - and there are other ways in which ongoing customers are offered extra value on a regular basis while they play with a particular brand.
No Deposit Bonuses
You may occasionally be offered a no-deposit bonus as a casino bonus when you sign up for a new account. In return for registering as a customer, you receive a few dollars to finance your initial play - before you even deposit any of your own money.
No-deposit bonuses tend to be relatively small, given the risk that you might play with the funds, win, and never actually invest your own cash. But they are a great way to spark your initial interest.
Deposit Bonuses
Many promo codes trigger deposit bonuses, which are another popular form of offer that boosts the funds at your disposal when you begin playing at an online casino. A deposit match, for instance, means that the sum you deposit is matched by the casino - effectively doubling your initial spending power and taking the pressure off for the first few games you play.
Risk-Free Play
Another way of being able to play without pressure, and one of the types of casino bonuses used most often, is the risk-free initial session of online gambling. This is usually 24 hours, during which any losses up to a certain limit - often as much as $1,000 - are returned to you as site credit. This means you can try out new games and reacquaint yourself with familiar titles without eating immediately into your balance.
Free Spins
Perhaps the most common casino bonus for ongoing customers is the chance to enjoy free spins. These are usually on new slot titles, and the rationale is that you might enjoy the game in question and continue to play it even when your free spins are over.
Betting Competitions
Many online casinos host regular tournaments relating to particular games, or a certain time of the week, during which your performance earns you a place on a leaderboard. Finish high enough on that leaderboard and you will qualify for prizes, usually in the form of free spins or site credit but some in cash. That makes this is a popular form of casino bonus among dedicated players.
Top Online Casino Games to Expect in CA  
When they eventually launch, the best California online casinos will offer a tempting choice of games for their visitors to enjoy. The exact mix of games will vary from brand to brand, but you should expect to find the following categories of game available.
Online Slot Machines
The vast majority of titles at most California gambling sites will be slot games, most of which are expected to be similar to those offered at tribal casinos in the state. Slot machines are easy to understand and to play - and modern game developers are constantly delivering amazing visual experiences to add to the excitement to play online slots.
Online Roulette
At any online casino, just as in every real-life casino, you should expect to find roulette. There are a host of variations around the theme of a little white ball spinning around a wheel; and game developers explore them all, enabling online casinos to offer a host of ways to enjoy roulette.
Online Blackjack
Blackjack is the most popular game at any casino, and online casino brands tap into that appetite by offering a large number of ways to play. Like roulette, blackjack combines a simple structure with endless intriguing possibilities. You should expect to find a host of ways you can enjoy blackjack when you visit online casinos in California.
Online Craps
Craps is far and away one of the most exciting table games around due to its fast-paced action and numerous bets. And the game is simple - bet on the numbers that you think a pair of dice will roll, that's it!
Now, craps can be an intimidating game to join on the casino floor given the popularity of the game, but now you can play craps online! Several online gambling sites like FanDuel and DraftKings now offer online craps, and the look and feel of the game is just like the real deal.
Online Poker
Poker remains the card game most closely associated with betting, and as a result many online casinos have strong online poker sites. Some even have apps dedicated to the old game.
Whether you prefer to play a video version of the game, or like to get your cards dealt by a live dealer, the best California online casino for you will cater to your taste. However, you still cannot legally play online poker in California.
Online Live Dealer Games
While many online casino players are content to stick with video games, a substantial proportion enjoy playing with a live dealer in attendance. This is partly because it brings a flavor of being in a real casino to you, wherever you are playing. At the best California casinos online, you can expect to find a host of table games presented and conducted by a live dealer, some of which could be located at tribal casinos in the state.
Online Video Poker
Video poker is a popular form of gambling among many gamblers, and a simple game to understand as well. Expect California online casinos to offer online video poker games in addition to the other forms of gambling like slots, table games and poker.
Fans of video poker will be happy to hear that several online casinos will certainly bring the game to the Golden State, so keep an eye out for online video poker games when the time comes.
California Online Casino Banking Options
There should be several payment methods available to you if and when you get the chance to wager at California online casinos. You should feel secure when playing with an online casino regulated by the California Gambling Control Commission.
It is important to check out which banking options a brand offers before you sign up for an account - and even more vital that you find out about withdrawal methods. The banking methods should include:
Credit/Debit Cards
So many of us use plastic to pay for services these days that it is no surprise to find most online casinos accept credit or debit cards as a way of making a deposit. However, some brands do not let you withdraw funds to the same card - check out the payout methods available before you sign up for an account.
e-Wallets
Many people are now comfortable with brands like PayPal, Skrill, and Neteller. These are user-friendly wallets that make it easy to move money around - and to pay into an online casino account. You should note that they are a particularly quick method of withdrawing money from your gambling account.
PayNearMe
This method is all about convenience when you are paying into your online casino account. You can take cash into stores such as a CVS Pharmacy, Family Dollar, or a California 7-Eleven, hand over the cash and get a barcode that transfers money into your account. By definition, though, it cannot be used to withdraw funds.
Prepaid Cards
The best California online casinos will almost certainly offer this as an option. Branded prepaid Play+ cards allow you to load them up with cash before transferring the money to your online casino account. This can be used for withdrawing your money as well as depositing it.
ACH/Bank Transfer
This looks on the surface like a really good way of moving your money online. Your bank connects to the online sportsbook or casino operator you want to use, and the money is transferred between them. However, it can take some time for the funds to arrive - several days in the case of withdrawals.
Venmo
The ease of depositing and withdrawing from your Venmo account is now available on several online casinos. If you carry a balance on Venmo, you can use this balance to fund your account on the likes of FanDuel and DraftKings.
What Forms of Gambling Are Legal in California?
So, what exactly can you wager on legally in California right now? The answer is... not much. The state permits very few gambling activities explicitly, and those that are allowed - such as charitable gambling - are strictly controlled. The only activity that exists in a gray area is Daily Fantasy Sports, which has never been outlawed but has never technically been legalized either.
Casinos in California
California has over 60 land-based casinos owned by Indian tribes sprawling across the state. The casinos can range from a tiny card room to full-fledged casino resorts with hotels and golf courses. These facilities offer casino games expected to be found at any typical casino - slot machines, table games, poker games, bingo, etc.
Horse Racing in California
California is home to some of the top horse racing tracks in the world, including Santa Anita Park, Del Mar Thoroughbred Club, Golden Gate Fields and Los Alamitos Race Course. And some of the most famous horse races take place in the Golden State. Take the TVG Pacific Classic, Santa Anita Derby and Del Mar Derby, to name a few. California horse racing is overseen by the California Horse Racing Board.
Lottery in California
California has one of the largest lotteries in the United States, boasting eight draw games and tons of scratch-offs. The California Lottery even has a state-exclusive lottery game - SuperLotto Plus - offering the largest starting jackpot among state lotteries at $7 million.
Poker in California
Poker in California is based in the state's card rooms and tribal casinos, offering plenty of places to play. In fact, the Golden State is a hugely popular hotbed of poker action, with nearly 100 legal card rooms from Eureka to Chula Vista. And that's the only form of legal poker in California as online poker remains largely illegal.
Daily Fantasy Sports in California
California daily fantasy sports are a grey area in that there are no laws explicitly legalizing daily fantasy sports contests but there are also no laws prohibiting the activity. With the Golden State being the most populous in the United States, it shouldn't be surprising that California accounts for the largest single state market for DFS sites.
Charitable Gaming in California
California allows non-profit organizations to offer charitable gaming operations in the form of bingo, raffles or poker nights serving as fundraisers. Such operations became legal in 2007 when legislation took effect. To offer charitable gambling, non-profits must be registered in California for at least three years to conduct charitable poker tournaments once a year. Single prizes for these tournaments must not exceed $500 and the total value of all prizes must not exceed a cash value of $5,000.
Commercial Casinos in California
There are currently more than 60 land-based casinos in California, each of them operated by one of the hundreds of Native American tribes that are recognized in the state, despite being a 3-hour drive from Las Vegas. When you visit these casinos, you'll enjoy a big choice of slot games, as well as live dealer table games, including poker. Among the biggest and most popular casinos in the Golden State are the following:
Could the tribes who operate these casinos launch their own online California casinos one day? There is no reason why not. Nobody knows how the political and commercial landscape will shift in the next few years, but it is unlikely that the tribes' position will become any less powerful than it is now.
If and when California online casinos become permitted by law, the tribes are unlikely to relinquish that position without a fight. The current tribal casino industry enjoys a revenue of $8 billion a year.
It is conceivable that they could go into partnership with a mainstream commercial brand to run an online casino and app; similarly, it is possible that the technology required to launch an operate such a business will have evolved to be easily mastered by non-tech specialists by then.
In short, nothing will change on the California iGaming scene without the buy-in of the tribes. It would, therefore, be surprising if they did not enter a lucrative online casino gaming space in their own right.
Are There Casinos in California?
Yes, there are casinos in California, and plenty of them. These casinos sprawl the Golden State and range in size from small card rooms to full-scale casino resorts. The majority of casinos in the state are clustered in southern California near Los Angeles and San Diego. All of the state's casinos are operated by Native American tribes.
The tribal casinos in California could eventually offer their own online table games and slots, if legislation passes. That could welcome in some of the premier online casino operators like BetMGM, FanDuel, DraftKings and Caesars.
What is the Largest Casino in California?
The largest casino in California is the newly expanded Yaamava' Resort & Casino, boasting over 300,000 square feet after opening its expansion in December 2021.
Prior to that expansion, Pechanga Resort Casino was the largest California casino at 200,000 square feet.
Do California Casinos Have Hotels?
Yes, California casinos have hotels, slot machines, table games, restaurants, bars and entertainment venues. The majority of California's tribal casinos offer as little as 200 hotel rooms to as many as 1,200, so there are plenty of rooms available at these casinos!
What Casinos are in Los Angeles?
There are several casinos in Los Angeles and the nearby areas, including some of the largest in the state. The closest casino to downtown LA is the Commerce Casino & Hotel, just 9 miles away from downtown. Other Los Angeles casinos include the Parkwest Bicycle Casino, Hollywood Park Casino, Crystal Casino, Lucky Lady Casino, Hustler Casino and Gardens Casino.
If you travel a bit outside of the city, you'll hit some of the larger tribal casinos in California like Pechanga Resort Casino, Yaamava' Casino and Morongo Casino Resort.
What Casinos are in San Diego?
While there aren't any downtown San Diego casinos, there are a few casinos a quick drive away, while some of the larger California casinos are 20-30 miles away. The Seven Mile Casino is the closest gaming facility to downtown San Diego at just 9 miles away.
However, if you want to broaden your horizons outside of Seven Mile, you'll need to jump in the car and drive at least 20 miles to gamble at the likes of Jamul Casino, Sycuan Casino Resort, or Barona Resort & Casino.
What Casinos are in San Francisco?
When it comes to San Francisco, there are a few casinos to pick from in the Bay Area. Gaming facilities like Lucky Chances Casino and Artichoke Joe's Casino are just 13 miles from downtown San Fran.
Now, if you're up for a drive, you can check out the San Pablo Lytton Casino, 17 miles away from downtown San Fran.
What Casinos are in Sacramento?
California's capital city plays host to plenty of casinos in and around the Sacramento. The newest of which is Hard Rock Hotel & Casino Sacramento at Fire Mountain, which opened in late 2019.
Outside of that, Thunder Valley Casino Resort is among the top casinos in the market, just a half-hour drive from downtown Sacramento.
How Old Do You Have to Be to Enter A Casino in California?
The age requirement to enter a casino in California is just 18 years old. That'll get you through the door, but if you're younger than 21, you can't gamble. The casino entry age requirement is younger than most states (21+) but the gambling age requirement falls in line with others.
Can I Visit Offshore Online Casinos?
There are many brands based outside California that offer online gambling to the people of the Golden State. We strongly recommend that you do not play at offshore casinos.
There are many reasons for taking this stance, but the most compelling one is that, without a license from the state's gambling control commission, such brands are not bound by the strict terms of such a license. In short:
❌ You have no legal recourse in the case of a dispute
❌ Offshore casinos' security measures may be less stringent than those at licensed casinos
❌ Your personal and financial information may be more vulnerable
❌ You cannot be sure the games you play are being operated fairly
❌ The promotional messaging around those games could be misleading
Responsible Gambling at California Online Casinos
All licensed online casinos in California will be expected to make responsible gambling a high priority. They should carry extensive details about ways in which you can keep your wagering under control, as well as links to expert agencies that can offer practical assistance if you fear you are developing a gambling problem.
What the Future Holds for California Online Casinos
It would be naïve to suggest that California online casinos will be legalized in the near future. Despite the size of the potential market in the richest state in the union, the current political situation as regards the various interested parties - particularly the tribes - could take years to unpick, resolve, and move forward.
The scale of the defeat suffered by leading sports betting brands' proposition in November 2022 suggests a lengthy battle to win over the hearts and minds of the California voters. Even then, the many parties with a vested interest in the future of California online casino and sports betting would first have to resolve their differences and come up with a compelling plan to put before the electorate.
That does not appear to be likely to happen any time soon. Even the prospect of getting another sports betting proposition with a chance of succeeding on the ballot in 2024 appears unrealistic. And even if such a measure were passed, there is no guarantee that online casinos would be included in any subsequent legislation to pass online sportsbooks.
The only logical conclusion, sadly, is that we could be into the 2030s before efforts to legalize online gambling in California are successful and residents can play their favorite games at a legal and licensed online casino. Perhaps the best hope before then is that the tribes feel confident enough that going online would not harm their existing custom to lead the way in launching their own online casinos.
California Online Casinos FAQs
No, it is not. Although more than 30 states have now legalized online sports betting or casino games in some form, all types of online gambling are illegal in California. As things stand, you cannot legally place an online bet on a sports event, and you cannot play casino games on your desktop or your mobile device.
No, you cannot legally place a wager on an online casino game in California. The only places where you can enjoy casino games are more than 60 tribal casinos, which are controlled by the many Native American tribes that are registered in the state.  
It is impossible to say, but it will not be any time soon. The earliest next attempt to legalize online sports betting and casino games is likely to be in 2024, and it is hard to foresee the circumstances in which it will be successful, given the entrenched positions of all the interested parties in the state.
No, it did not. Two propositions were put before the voters of California in November 2022, and both were emphatically defeated. One of the proposals, which would have cleared the way to legalize online betting, and which was supported by leading online gaming companies, attracted just 18 per cent of the vote.
A social casino is an online casino platform where you can play casino games – but not for real money. There are several social casinos in California, and they offer an enjoyable taste of the experience of playing casino games such as slots, but you cannot wager or win money there. 
A sweepstakes casino is very similar to social casinos, in that you can play casino games there without real money being involved. However, the difference is that sweepstakes operators use a legal loophole whereby you can exchange some of your gambling tokens for entry to sweepstake games – and there may be real money up for grabs as prizes.
Author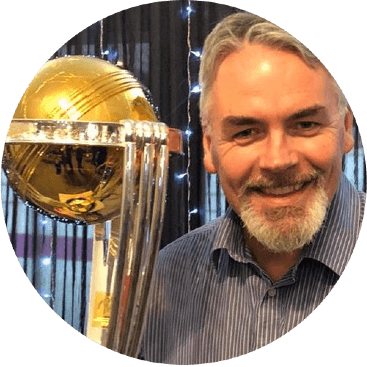 Martin Booth
Contributor

@MartinBooth_
Martin Booth covers a gambit of topics for BetCalifornia.com as an award-winning contributor covering sports betting and casino gaming around the world for decades, Martin Booth is one of the most trusted voices in online gambling. From legislative updates in California to breaking down the top betting apps in CA.