High 5 Casino CA App
High 5 Casino is one of the most popular social casinos available across the nation. Social casinos differ from traditional casinos because you play for fun rather than real money.
With more than 800 slot titles available here, there is plenty for slot aficionados to enjoy. There is also a selection of table games, including roulette and blackjack, as well as video poker titles.
This is an enjoyable and safe option, and you have the chance to use your sweeps coins to unlock rewards including cash prizes. The High 5 Casino app is available at both app stores, and scores highly with reviewers there.
BetRivers.net CA App
BetRivers.net is one of the major online gambling players in the United States, and its BetRivers.net social casino is available across the nation.
You'll find more than 2,000 games to play here. The vast majority are slots, but there are also several table games, including blackjack, roulette, and poker – and these include some live dealer options.
This is a purely social casino, in that there is no option to qualify for real-money prizes. For mobile gamblers, the BetRivers.net app is highly regarded by visitors to both app stores.
Horse Racing Apps
Horse racing is hugely popular in California. The state is home to several top-flight tracks including Del Mar, Golden Gate Fields, and Santa Anita, which regularly stages the prestigious Breeders' Cup.
This is one sport you can place bets on, either at the track at off-track betting facilities. You can also play through your mobile device with several app providers.
FanDuel Racing California, part of the all-conquering FanDuel empire, has quickly acquired a solid following, but there are other options including the highly rated TwinSpires, WatchandWager, and Xpressbet apps.
Best California Sports Betting Apps to Expect: October 2023
When the use of California online betting apps becomes legal, the people of the Golden State are likely to have several top operators to choose between. Competition for custom is likely to be fierce between the following CA betting apps.
The operators who gain licenses to offer California betting apps are likely to be companies with extensive experience in states where their activities have been legalized. Let's look at what you can expect from some of the leading names in the industry.
Best Overall California Betting App: FanDuel
The FanDuel California betting app will offer a superb all-round service to sports fans in the Golden State. This is an app that is popular with bettors in numerous states, for a variety of reasons.
It offers a wide range of sports and markets and an excellent selection of bonuses, and delivers a high quality of user experience to mobile users.
The company never stops moving forward, seeking to upgrade its offering constantly. Players have certainly enjoyed the benefit from recent innovations such as same-game parlays and live streaming.
App Features: Wide selection of sports and markets, broad choice of live streaming events, superlative user interface.
Promotions: No-sweat first bet refund of up to $1,000
Total States Live: App available in 22 states + D.C.
Top California Betting App For Rewards Program: Caesars
The Caesars Sportsbook California betting app will grant its customers access to one of the most highly regarded rewards programs in the industry. Caesars Rewards is a long-established scheme to recognize loyal players.
As well as earning rewards by placing sports bets, you can add to your points balance through your wagering at Caesars casino properties across the country.
Many betting apps in California will offer rewards programs, but we urge you to bet responsibly and not wager more than you can afford in the quest for VIP points and prizes.
App Features: Excellent rewards program, high frequency of creative bonuses, top-class user interface.
Promotions: Refund of losing first wager up to $1,250, plus 1,000 tier credits and 1,000 reward credits
Total States Live: App is available in 19 states + D.C.
Best California Betting App For Live Betting: DraftKings
The DraftKings California betting app can be relied upon to serve up a generous array of in-play wagering opportunities. Every California sports betting app is likely to have a strong focus on live betting, but the selection here is particularly impressive.
You can expect a broad range of sports to bet on once the action gets under way. The speed with which the odds on live markets are updated is particularly impressive.
At many CA sports betting apps, the margin in favor of the book is notably bigger at in-play markets, but this operator tries to keep its lines as attractive as possible.
App Features: Outstanding user interface, broad range of live betting opportunities, strong selection of promos.
Promotions: $50 bonus bet, bet $5 and get $150 in bonus bets, 20% deposit match up to $1,000
Total States Live: App available in 23 states
Top California Betting App For Selection of Sports: BetMGM
The BetMGM California betting app will offer an enormous number of sports on which you can place bets. Any California betting app should deliver a rich choice of events; but the selection here will be as broad as any you will find.
Naturally, there is a strong focus on leading American sports. But you will find a host of markets on other national and international events and leagues.
As well as being able to enjoy a top all-round mobile betting experience, you should look here first when you want to wager on more obscure sports and events.
App Features: Exceptional range of sports and markets, well designed user interface, excellent range of promos and bonuses.
Promotions: Bonus bet refund of up to $1,000 on losing first wager
Total States Live: App available in 21 states + D.C.
Top California Betting App For Prop Bets: Barstool
The Barstool Sportsbook California betting app will be the place to go when you want to source a host of innovative and challenging proposition bets.
Prop bets are popular with enormous numbers of bettors, and every California sportsbook app will carry plenty of them. But this operator stands out because it creates special markets, many of them based on the opinions of its outspoken content creators.
This is a mobile-first brand that consciously appeals to the younger demographic and it serves that generation well, particularly on its iOS app.
App Features: Great selection of prop bets, impressive range of sports to bet on, top range of innovative bonuses.
Promotions: Second chance first bet up to $1,000
Total States Live: App is available in 16 states.
Top California Betting App For In-State Promos: WynnBET
The WynnBET California betting app should be the place to go when you want markets and promos focused on teams based in the state.
The main reason for this is that the company is likely to launch a state-specific California betting app. This is in contrast to most of its rivals, which are likely simply to extend the reach of a universal app.
In a state packed with top sports teams – and sports fans – this could provide a real edge for the brand. You can expect an in-depth treatment of all leading US sports, and the company is also known for the high qualify of its customer support.
App Features: Ability to offer state-specific markets and promos, strong focus on top US sports, highly respected customer support team.
Promotions: Bet $100 and get a $100 bet credit
Total States Live: App available in 11 states.
California Mobile Betting Legislation & Launch Timeline: October 2023
There has been little substantial progress towards the legalization of betting apps in California following the comprehensive defeat of two propositions in the public ballot of November 2022.
📆 June 2023: The 29 Palms Band of Mission Indians launches a social betting platform where you can redeem credits to use in the tribe's casinos. This illustrates the iron grip held by the state's 110 federally recognized tribes over the gambling scene in California.
📆 November 2022: Analysis of the heavy defeat of both propositions (see below) is clear. No progress is possible without the involvement of the tribes that run more than 60 casinos across California.
📆 November 2022: Proposition 26, to allow casinos and racetracks to offer in-person sports betting, is voted down 68%-32%. Proposition 27, which would have permitted online betting only, loses by the massive margin of 82%-18%.
📆 2021: The campaigns to get sports betting on the public ballot in 2022 are launched. This leads to extensive political wrangling between the tribes, major betting operators, and the state's lawmakers.
📆 June 2020: A bill that would have legalized sports betting without the involvement of the tribes fails to make it past the floor of the state Senate.
📆 May 2018: The US Supreme Court overturns the Professional and Amateur Sports Protection Act. This clears the way for states to legalize sports betting, but the lack of progress on previous bills suggests a long road lies ahead.
Are California Sports Betting Apps Legal?
Under current state law, California online betting apps are not legal. Despite the size of the state's population, the number of high-profile sports teams in the state, and the potential for an extremely lucrative market place here, the road to legalization of CA sports betting apps is likely to be a long one.
Despite the fate of the two propositions that were heavily defeated in the public vote in November 2022, it is likely that fresh legalization efforts will be launched in 2023 or 2024. There is optimism among leading betting operators that another proposition might be on the ballot in 2024; but the state's tribes, whose position is so influential, are in no rush.
How Many Sports Betting Apps Will There Be?
Until legislation is drafted that can be debated by the state's lawmakers, it is not possible to say how many California betting apps there might be one day. The market is certainly big enough to justify the launch of at least a dozen CA sportsbook apps. It will be intriguing to see how many California gambling apps are eventually given a license to operate here.
Can You Use Multiple Sportsbook Apps In California?
When the chance arrives for sports fans in California to enjoy legal mobile betting, there will be nothing to stop you signing up for several California betting apps. Indeed, this is usually a productive strategy.
By gaining access to several CA online betting apps, you can take advantage of multiple welcome bonuses. You can also compare the odds between operators to see where the most value is to be found. This strategy will also help you to decide which are the best California sports betting apps for you.
California Sports Betting Apps: Best App Store Ratings
As you can see from the table above, every company likely to gain a license to operate a California sports betting app has extensive experience in this field. Virtually all CA gambling apps will already be available in several other states.
This gives you an advantage, in that you can visit the major app stores to check the ratings that users elsewhere have recorded. Don't just look at the numbers, although they are important. Read the reviews and see what each California betting app is liable to be good for – and where any issues might lie.
(* ratings for WynnBET Colorado)
How To Download And Install Betting Apps in California
The process of downloading a California sportsbook app should be extremely straightforward. It is in the interest of every operator to make it as easy as possible for you to access their product. Let's look at the steps you will probably have to take.
How To Download Apple iOS Betting Apps
When you own an iPhone, or other iOS device, you will be able to access your chosen California sports betting app at the App Store if you follow these steps:
✅ Go to the App Store on your device's home screen
✅ Type the name of the California betting app you want in the Search bar
✅ When you find it, click on the app and select Get
✅ Your app should now download immediately to your home screen
✅ Sign into your account so that you can start placing bets
How To Download Android Betting Apps
If you own an Android device, the CA sports betting app you want will be at the Google Play Store. Just follow these steps:
✅ Go to the Google Play Store on your Android
✅ Search for the California sports betting app you want
✅ When you find it, click on the icon to begin downloading
✅ Within seconds, the app will begin to download to your home screen
✅ Sign in - or sign up for an account - and you can start betting
State-Specific Betting Apps vs. Universal Betting Apps
Most betting apps in California will be universal. That means they will offer the same content in the Golden State as they do anywhere else the operator holds a license. However, some companies – WynnBET is an example – launch a fresh app in every state where they are legally entitled to work.
That means there will be a state-specific CA sportsbook app, which in turn ensures the content will have a powerful emphasis on local sports and teams. One disadvantage of state-specific apps is that it can take time to iron out the wrinkles and perform at its best. Also, universal apps can be downloaded before they go live so you can get familiar with them – though you won't be able to place bets, of course.
What Are The Rules And Regulations For Downloading A California Betting App?
If you want to use California online betting apps, you will have to be over the minimum age for this type of gambling in the state. Although this has yet to be finalized, it is likely to be 21 – and you may have to submit documentation to prove your date of birth.
You won't need to be a resident of the Golden State to use California betting apps – but you will need to be within state lines. All the operators that supply betting apps in California will use geo-location technology to ensure that you are on licensed territory before allowing you to place a bet.
Do I Have to Download a Betting App in California If I Want To Bet?
You can place bets on your mobile device without downloading a California sports betting app. By opening a web browser on your phone, you can access the operator's website and access all the sports and markets it has to offer.
However, while this might save you some storage space on your device, it will take you longer to call up the content in question. If you download a California sportsbook app, you will be able to find the bet you want much more quickly – which could be crucial if you are looking to wager in-play.
California Betting Apps vs. Desktop Betting & Mobile Web Betting
There are some obvious advantages to placing bets through the desktop version of an operator's platform. One is that you can view more content at once through the bigger screen available on your desktop. You will also have a larger viewing area if you want to enjoy live streaming.
However, for many bettors this consideration is outweighed by the sheer convenience of being able to wager through your mobile device. It doesn't matter where you are, if you have a signal you can access the best California betting apps and get your bet on. The sheer flexibility of mobile wagering, and the likely high quality of California betting apps, ensures that this will be a popular option with vast numbers of bettors in the state.
In-Person Betting At California Retail Casino
We must wait to see the precise shape of the legal sports betting industry in California when it arrives. It may be that many of the tribal casinos in the state become home to retail sportsbooks.
There is a lasting appeal to in-person wagering in this way. You are likely to be surrounded by like-minded enthusiasts, which creates a compelling buzz in any room. There are likely to be giant screens where you can watch the action; and if you wager in cash, you will probably be able to pick up your winnings instantly.
Should I Download a California Betting App Before Going To A Retail Casino?
By downloading a California sportsbook app before you visit a retail casino, you are keeping your options open. Even if the casino in question is home to a top-notch in-person sportsbook, there are reasons why it's useful to have one of the best California gambling apps at your disposal too.
✅ There are no queues online! You should be able to get your preferred bet on straight away.
✅ You have the option of using a California betting app provided by a different operator to the one offering the retail sportsbook - this can be useful for the purpose of finding the best odds.
✅ You can do two things at once, and place your sports bets while you are enjoying a table game, or a session on a slot machine.
Are Promotions Available On Betting Apps in California?
One of the ways in which betting apps in California will compete for your attention, custom, and loyalty is by offering tempting promotions and bonuses. This means you should never be too far away from California sports betting promos.
You can expect a generous welcome bonus to reward you for signing up for an account with a California sports betting app. That should be followed by regular opportunities for further value and fun. These may include odds boosts, parlay insurance, and a bonus if you refer a friend who registers as a customer.
Features To Look For In a California Betting App
So, all California betting apps are the same, right? Once you get the chance to place bets through your mobile, it doesn't matter who you choose to do it with, does it?
Absolutely not. There is a great deal of variation between even the best California sportsbook apps. It's well worth doing your research and finding out all about the different products on offer so you settle on the right one for you. There are several factors you can apply while you do that research.
Easy To Use
Out of all the different metrics you can apply to California online betting apps, this may be the most important of all. It's essential that you find the experience of using your chosen app as quick, intuitive, and straightforward as possible.
Look for a California sportsbook app that is well designed, and manages to get plenty of information on your screen without it looking cluttered. Then assess the user interface.
Does it respond instantly when you tap on your desired destination? Can you move at top speed to the wager you want to place? If the answer to both questions is yes, you will find the process of placing your bets easy and enjoyable.
Great Promotions
One of the ways in which betting apps in California will strive to stand out from the crowd will be through their offers and promotions. The intensity of the rivalry between operators can benefit bettors, as companies battle for their custom.
Your journey should start with an eye-catching welcome bonus. This might offer you the chance to boost your deposit, or to win bonus bets in exchange for a small stake, or to play your first bet again if your selection lets you down.
Check out the terms and conditions to see which type of welcome promo suits you. Even offers that look identical may have restrictions that make one less alluring than another.
Betting Options
You may want to bet solely on the major American sports, or the best college action. All the best California online betting apps should carry extensive markets on the NFL, NBA, MLB, and NHL – some may offer you in-depth coverage on those leagues, but not much elsewhere.
However, you may wish to cast your betting net wider, and want to wager on less prominent events at home and abroad.
Check out the A-Z menu at each of the California gambling apps you access. You may be surprised by the degree of variation between operators in terms of the number of different sports and leagues they enable you to bet on.
Competitive Odds
At first, it is possible to believe that all the odds at betting apps in California are the same. Indeed, some operators take their odds from providers that also supply rivals in the market place.
However, as you become more experienced you will notice the differences between books on certain sports and at different times. By comparing the odds on certain lines, you'll be able to find where the best value is.
For instance, if the San Francisco 49ers are +120 on the moneyline for their next NFL game across the board, but one California betting app has them priced at +135, you know where to place your bet.
Banking Options
This is another area where there may be great variations between betting apps in California. Which makes it important that you check before opening an account to be sure that you will be able to move money into and out of it in a way that suits you.
Certain deposit options are on offer in most places, and these include debit and credit cards, e-wallets like PayPal, and online baking methods. Others, though, might offer prepaid cards and other possibilities.
It's essential you find out about withdrawal methods, because there may be fewer ways to take money than to deposit it. This is one subject where a little research really can pay dividends.
Payout Speed
When you enjoy a good win, and want to take the proceeds out of your California sportsbook app account, you naturally hope the funds clear into your personal bank as quickly as possible. However, the definition of "as quickly as possible" depends on a host of factors.
The method you choose to withdraw funds can determine how long it takes. E-wallets are relatively quick, while cash at a partner casino's cage is also rapid. Online methods may be slower.
Your California sports betting app operator may also insist on checking every withdrawal for security purposes. That can add considerably to the amount of time it takes for your funds to arrive.
Customer Support
A customer support team is like a good insurance policy. You don't ever want to use it; but if you do, you want the service to be swift and efficient. There should be several ways in which you can contact your California sportsbook app operator.
The quickest are usually a toll-free phone number or a 24/7 live chat function – but are these staffed by in-person experts, or chatbots? That can make a difference to the level of service you receive.
Other options at the best CA sports betting apps will include email addresses, extensive FAQ sections and an interactive social media presence.
Security
When you are placing bets through a California sports betting app, you want to feel reassured that you are protected at all times. After all, you are sharing personal details and making financial transactions.
All California online betting apps should have state-of-the-art security systems in place. These might include end-to-end encryption of all deals and communications. Leading California gambling apps will be tested regularly by third-party experts.
Look out too for dual-factor authentication, touch ID, face ID and any other measure an online operator can take to assure you that your data is subject to the most stringent security every step of the way.
Tips To Stay Safe When Using Betting Apps in California
It's essential that you feel safe whenever you are using betting apps in CA to place wagers – and there are several measures you can take to bolster your protection.
Use Only Licensed California Betting Apps
You may find some operators online that offer betting services to people in California. Until online wagering is legalized in the Golden State, it is safe to assume that these are unlicensed and unregulated offshore operators.
It is not advisable to use these apps. Their levels of security are likely to be lower than ideal, the quality of the betting markets on offer is harder to guarantee, and if you do run into a dispute you will have no legal recourse - and may lose your money.
Check For Enhanced Security Measures
All California online betting apps should offer you a basic level of security to reassure you that you and your data are protected. But there are extra measures that can be put in place to provide enhanced peace of mind.
Look out for dual-factor authentication – and use it if it is offered. Facilities such as face recognition ID, touch ID, and security questions all represent a strengthening of your barriers against hackers.
Change Your Password Regularly
This may sound like a simple step, but keeping your password strong and secure can present a significant deterrent to hackers. That's why we recommend changing it frequently.
At least once a month, choose a new sequence of letters and numbers to access your account. Make sure it is complex, not easily guessed, and a password that you don't use anywhere else.
Pay Through Secure Methods
The range of banking methods on offer at your chosen California sports betting app may include an option with which you are familiar, and that you trust implicitly because you have used it for a long time.
However, if you have to use a method that is new to you, make sure you do your research so that you are sure it offers sufficient security. Some payment methods are more secure than others, so always try to choose a way of moving your money that will give you both the protection and the peace of mind you need.
Bet Responsibly With Betting Apps in California
All CA online betting apps that are licensed by the state's Bureau of Gambling Control should make responsible gambling one of their key priorities. Because, while wagering on sports is a harmless activity for most people, in a minority it can present the risk of addiction – and all the issues that brings in its wake.
Every California betting app should carry a prominent link to a section dedicated to responsible gambling. This should offer detailed advice about staying in control at all times, including methods such as self-exclusion and setting time limits. There should also be direct links to expert local and national agencies that can offer practical support and assistance to anybody who fears they are developing a gambling problem.
Prepare To Bet With California Betting Apps
It's not possible to say when legal California online betting apps will become a reality. What we can say with some certainty, however, is that the Golden State has the potential to be home to one of the most exciting and lucrative online betting markets in the nation.
As a result, the competition for customers between betting apps in California is sure to be intense. That can only be good news for bettors; we can expect some spectacular welcome bonuses and some superlative mobile betting experiences when the opportunity arises.
The political in-fighting surrounding the quest for legalization may continue for some while yet. Once it is over, and the dust settles, the chance to use betting apps in California should be seized with relish.
California Betting Apps FAQs
There is currently no time table for when California betting apps will be legalized in the state. Two different ballot initiatives were voted on in November 2022 but both received heavy opposition from voters. New legislation could be proposed in 2024, which if approved, could put sportsbooks in California in 2025.
It is safe to assume that every online sportsbook that gains a license will also launch a California betting app. The size of the mobile betting opportunity in a state like California makes that inevitable. However, there may be some retail sportsbooks that choose to focus solely on the in-person market.
This has yet to be decided, and will depend on the terms of any proposal put to the voters of the state. Given the potential size of the market in the Golden State, there could easily be a dozen or more licenses available for California online betting apps.
One way of identifying the best California betting apps for iPhone owners will be to check the ratings at the App Store. As things stand, the leading brands in this respect are likely to be FanDuel, BetMGM, and DraftKings, which all score a healthy 4.8 out of five with reviewers there.
By assessing the ratings left by viewers at the Google Play Store, it is possible to see what the best California betting apps are likely to be for Android owners. FanDuel and DraftKings, which both have long histories in the mobile space, are currently the highest rated.
All California betting apps should offer a range of promos, starting with an excellent welcome bonus for new customers. Identifying which is the best will always be a personal decision, but brands such as Caesars, BetMGM, FanDuel, and DraftKings always present a compelling mix of promos to their players.
There are more NCAA Division I teams in California than any other state, so the potential for college sports betting is enormous. It has yet to be decided whether or not betting on college sports in California will be allowed – we must wait for the relevant legislation to be passed for a final decision.
Author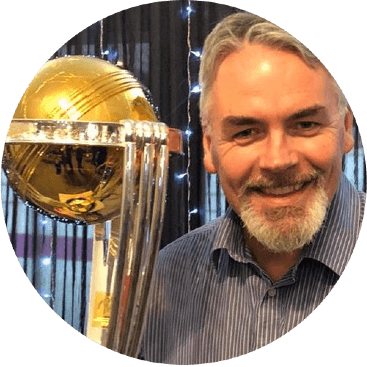 Martin Booth
Contributor

@MartinBooth_
Martin Booth covers a gambit of topics for BetCalifornia.com as an award-winning contributor covering sports betting and casino gaming around the world for decades, Martin Booth is one of the most trusted voices in online gambling. From legislative updates in California to breaking down the top betting apps in CA.